On June 25, 2005 my eight year old son Jesse drowned in a swimming pool. This is my visual reconciliation of that loss. I entered it in the Vineyard art show (at the time the largest open show in Onondaga County, NY). It did well winning the People's Choice Award and taking 2nd overall.
I have recently revisited this painting and "finished it up". However when it comes to this piece perhaps it not unlike myself and will always be a work in progress.
I call this piece "A Reflection of Home" realizing that this body is not the promise and this world is not my home. In fact the promise that is spoken to me through this painting can be found in 1 Corinthians 13:12
It has been 20 years since I have picked up my watercolors. Christmas 2015 found me scurrying to get just the right present for my daughter Maria. She loves elephants and basketball. I forgot about the freedom and guided serendipity watercolor paint offers. This artist thinks he is in control but this medium insists he really isn't. For me, that is a good thing. I am going to reintroduce myself to watercolor, I think I like it. I hope the feeling is mutual.
This illustration is private commission with a great story behind it. It was retold in a newspaper article shortly after the coach's passing. The player had made a foolish error and had cost the Panthers the game. The newspaper reporter expected Coach Dennis O'Brien to chew the player out; yet Coach O'Brien took the opportunity to teach the young man from his mistake instead of chastising him, thus resulting in "The Coachable Moment". This painting was commissioned to memorialize a great coach who built up the young men under his charge and touched many lives. Coach Dennis O'Brien was killed by lightning as he and his team scrambled to escaped a sudden and violent thunder storm.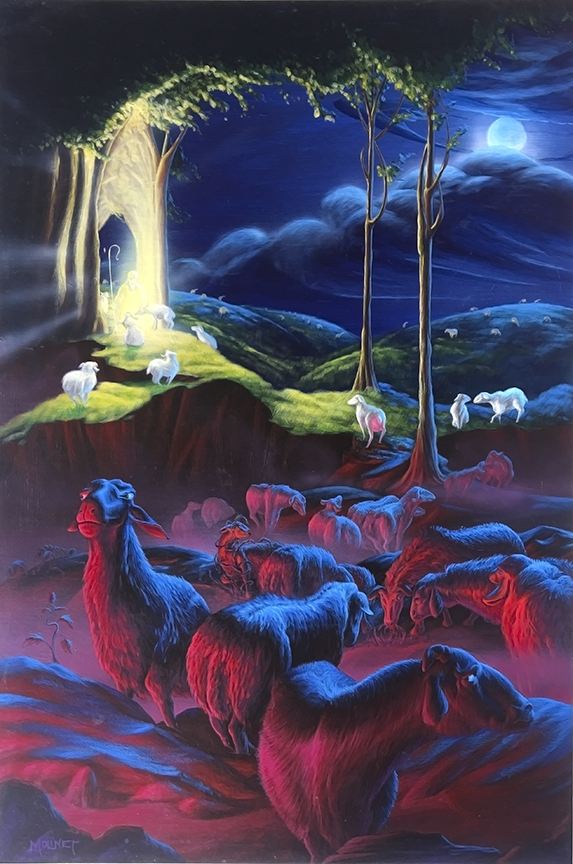 7So Jesus said to them again, "Truly, truly, I say to you, I am the door of the sheep. 8"All who came before Me are thieves and robbers, but the sheep did not hear them. 9"I am the door; if anyone enters through Me, he will be saved, and will go in and out and find pasture. 10"The thief comes only to steal and kill and destroy; I came that they may have life, and have it abundantly.
11"I am the good shepherd; the good shepherd lays down His life for the sheep. 12"He who is a hired hand, and not a shepherd, who is not the owner of the sheep, sees the wolf coming, and leaves the sheep and flees, and the wolf snatches them and scatters them.13"He flees because he is a hired hand and is not concerned about the sheep. 14"I am the good shepherd, and I know My own and My own know Me, 15even as the Father knows Me and I know the Father; and I lay down My life for the sheep. 16"I have other sheep, which are not of this fold; I must bring them also, and they will hear My voice; and they will become one flock with one shepherd. 17"For this reason the Father loves Me, because I lay down My life so that I may take it again. 18"No one has taken it away from Me, but I lay it down on My own initiative. I have authority to lay it down, and I have authority to take it up again. This commandment I received from My Father.
John 10:7-18